Series of creative photographs by talented French artist Laurent La Gamba features people dressed incamouflage costumes
For less than $10 you can make a one-of-a-kind lamp that commemorates your personal history or other past events. Creative lighting aside, this quick project also finally finds a use for those old 35mm negatives you have lying around.
This DIY lamp project couldn't be much more straightforward. Basically, you coat a $7 Ikea Grono lamp (or other similar lamp), with Mod Podge (or other decoupage glue) and carefully place your strips of negatives onto the lamp. There are some important tips for making the lamp on Poopscape, so hit up the source link for the full instructions, but that's the basic gist of this clever and quick Ikea hack.
Of course you should probably digitize your old film strips before cutting them up and turning them into cool mood lighting.
Have any creative ideas for using old photo negatives or similar lighting projects? Let's hear them in the comments.
Grono Lamp Hack | Poopscape [via DIY Life]
(Source: Lifehacker)
Series of creative ads reminds people that life is too short for the wrong job.
Memorable ads were created by Scholz & Friends advertising agency for Jobsintown.de, one of the largest job search websites in Germany.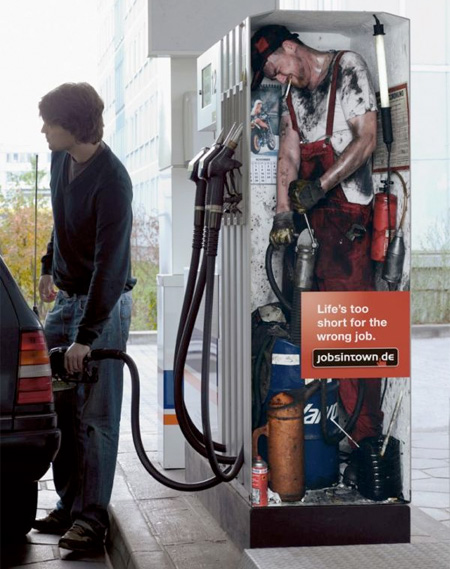 take a look here http://www.toxel.com/inspiration/2011/03/15/lifes-too-short-for-the-wrong-job/
and while you're at it, check out some other cool posts on toxel.com
this rubix cube features braille engraved on the six surfaces, to stand for the green, blue, red, yellow, white and pink colors, so that the visually impaired people can play the game more easily. That's also an interesting toy for those sighted folks who want to learn Braille.